Antireflux Plus Heart
The Antireflux Plus Heart adjustable bed frame is designed and produced to improve sleep for those who suffer from gastric problems and blood circulation issues. The bed frame gradually tilts to avoid reflux which is harmful for health and disturbs sleep quality.
The double bed version can be obtained by joining 2 single bed bases.
Certifications
Product Details
| | |
| --- | --- |
| Height | About 11 cm (7 cm framework thickness + 4 cm suspensions and slats thickness) |
| Length | 190 - 195 - 200 cm |
| Width | 80 - 85 - 90 - 100 - 120 cm |
| Custom Measures | Available |
| Certifications | Catas, Eco-Friendly |
| Production | Handmade in Italy by Manifattura Falomo |
Antireflux Plus Heart bed base specifications
The inclination of the bed base is studied to oppose acid reflux: the bed base, thanks to its particular inclination, allows to rest in a healthy way by opposing the phenomenon of reflux which is harmful for health.
The double framework made of beech plywood with a 70×25 cm section and a corner finishing at 45°, is wear resistant and incredibly silent.

Overmore, the 28 independent evaporated beech wood slats, are assembled in pairs, of which 6 double slats in the dorsal area are provided with stiffness regulators that allow customized adjustments: the more the regulators are moved outward, the stiffer it becomes. The double bed version can be obtained with 2 single bed bases.
Ideal for reflux problems or heart problems
The motorized bed base "Antireflux Plus Heart" can perform 2 functions: as an anti-gastric reflux bed base, or if rotated, as a bed base able to support those who suffer from heart problems.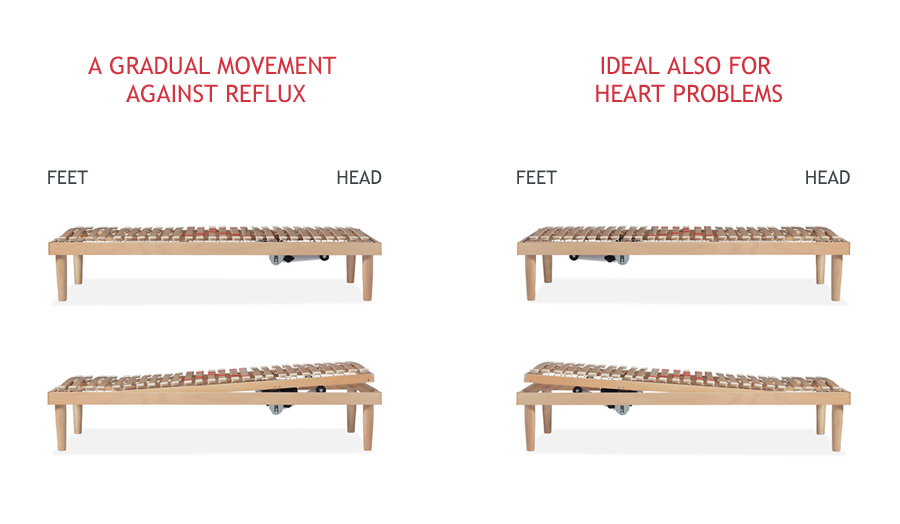 Silent, easy-to-operate motor
Thanks to the comfortable remote control with 2 "easy push" buttons, it will be easy to adjust the bed base.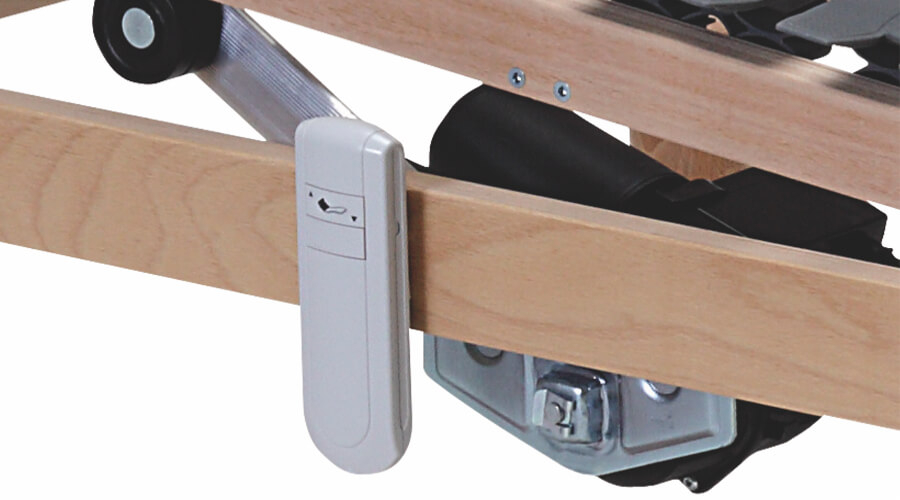 SBS suspensions
The SBS shock absorbers are robust, durable, and ideal for areas subject to pressure.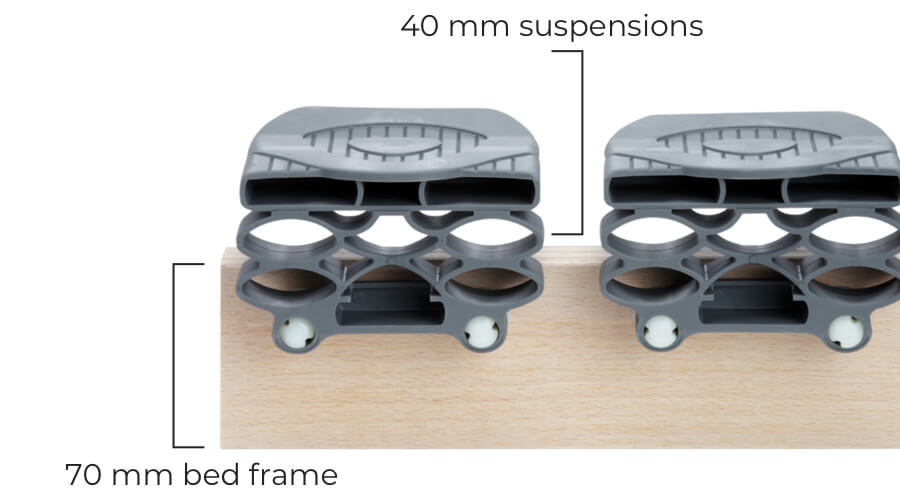 Custom size
The adjustable bed base is available in custom dimensions with a maximum width of 120 cm and a maximum length of 220 cm.
Available options for the Antireflux Plus Heart bed base
Bed base legs
The bed base legs are not included in the price and are available in different sizes ranging from 25 cm to 50 cm.
The height of the bed leg refers to the upper edge of the bed: for example, a leg of 35 cm of height consists of 28 cm of leg and 7 cm of framework.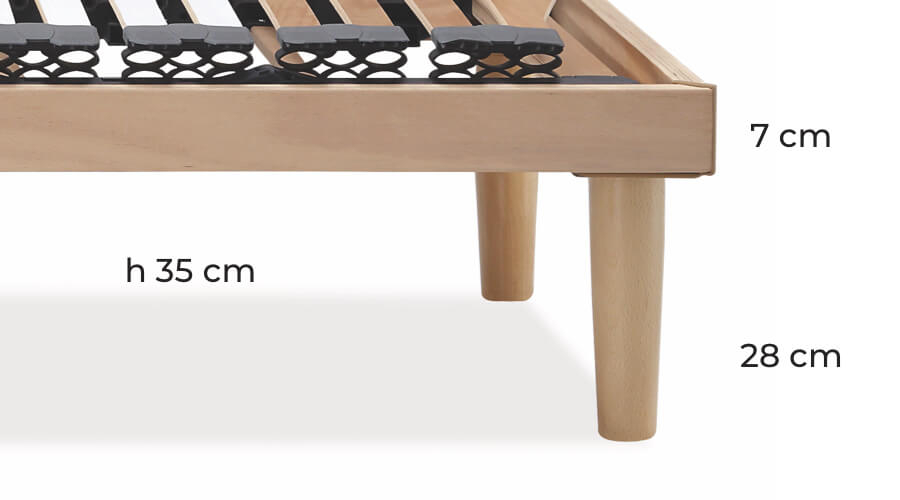 Side mattress stoppers
The easy-to-use side mattress stoppers help keep the mattress always in the right position.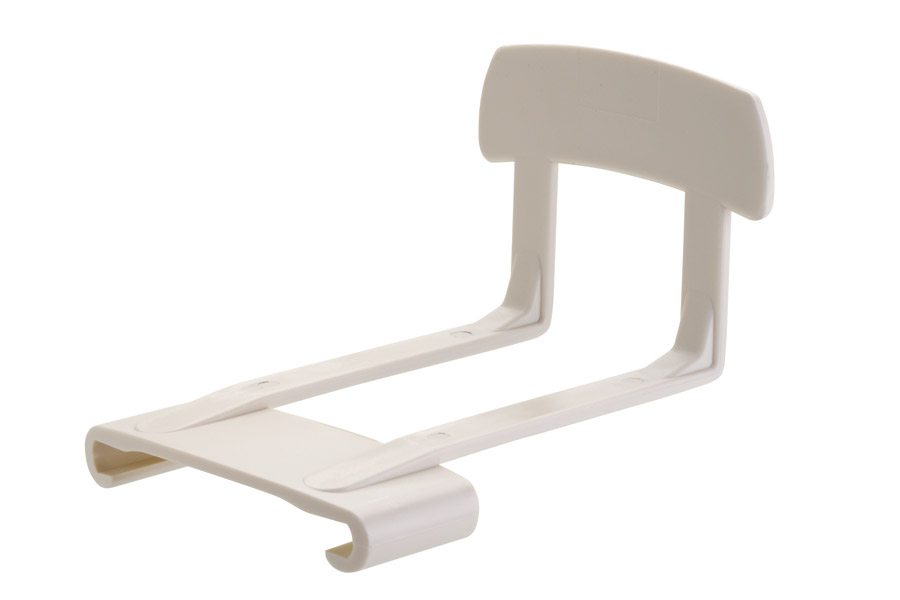 Connecting leg for bed base
The connecting leg supports and blocks the pair of single bed bases in order to obtain a double bed base.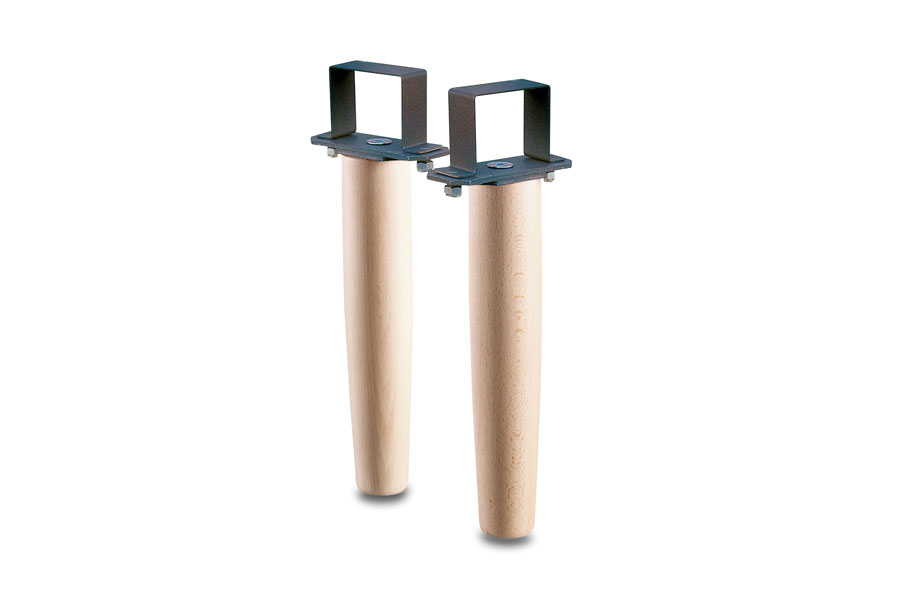 Plastic connector for joining bed bases
Combine 2 single bed bases together to obtain a double bed base without using extra legs.
Bed base compatible with our Ego 21 headboard
Add a touch of elegance to your bedroom with the personalized Ego 21 headboard: find out more!