Ergomovie
Ergomovie bed base: the extraordinary minimum dimensions and it being extremely noiseless, are the main features that distinguish this product from most common bed bases on the market. The double bed version is obtainable by joining 2 single bed bases.
Product Details
| | |
| --- | --- |
| Height | Approximately 11 cm (7 cm framework thickness + 4 cm suspensions and slats thickness) |
| Length | 190 - 195 - 200 cm |
| Width | 80 - 85 - 90 - 100 - 120 cm |
| Custom Measures | Available |
| Weight | The Ergomovie bed base supports 150 Kg in single size version. |
| Certifications | Catas, Class 1 Medical Device, Eco-Friendly |
| Production | Handmade in Italy by Manifattura Falomo |
Characteristics of the bed base "Ergomovie"
Ergomovie bed base has an appealing design as the motors are well hidden: thanks to its 5 junction points, it allows to take many positions during rest for a unique comfort.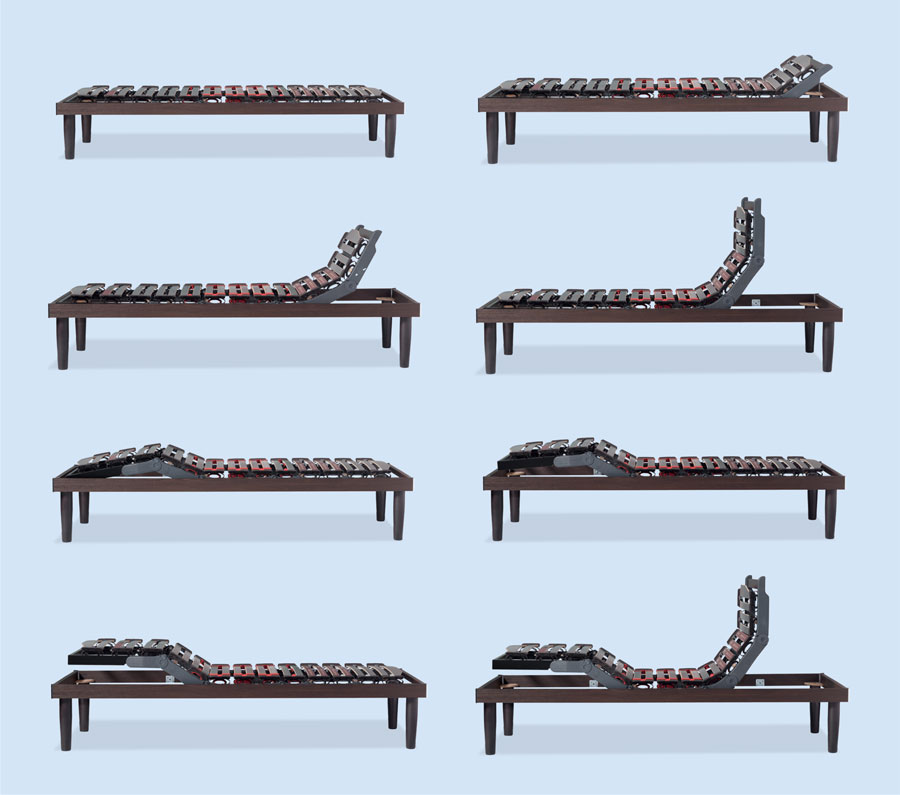 The bed base with an elegant and compact design
The extreme silence and exceptional minimum dimensions declare its success.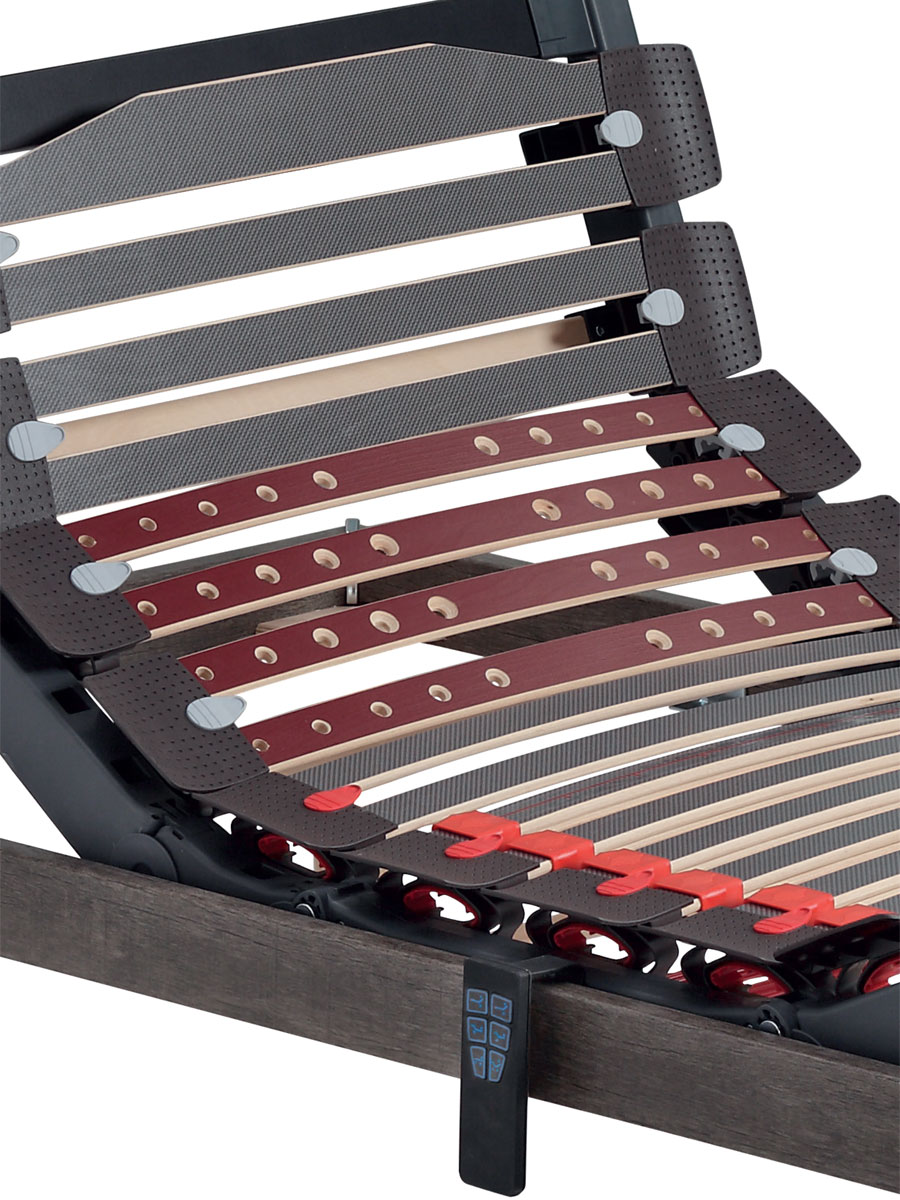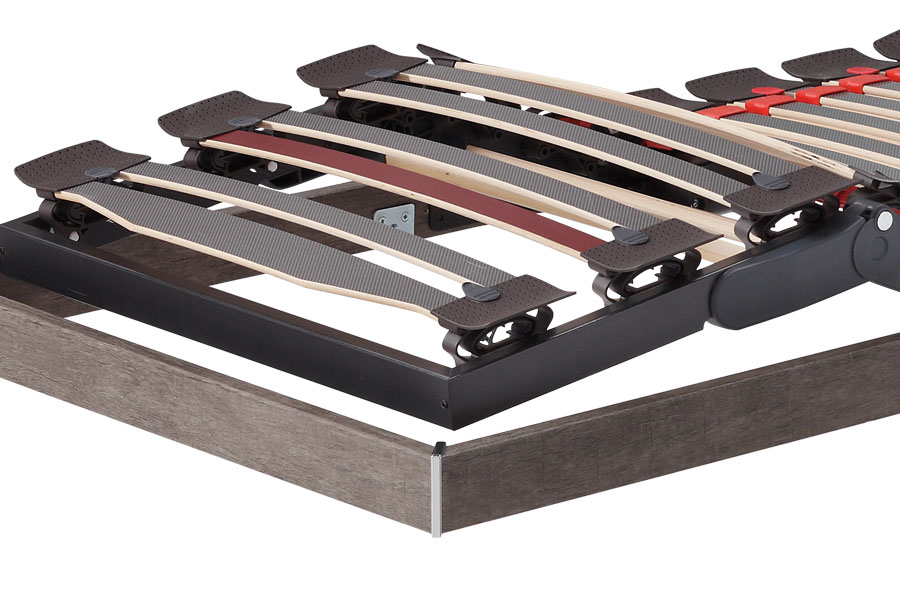 Remote control for adjusting the bed base
Provided with a useful wired remote control which allows to easily adjust the bed base.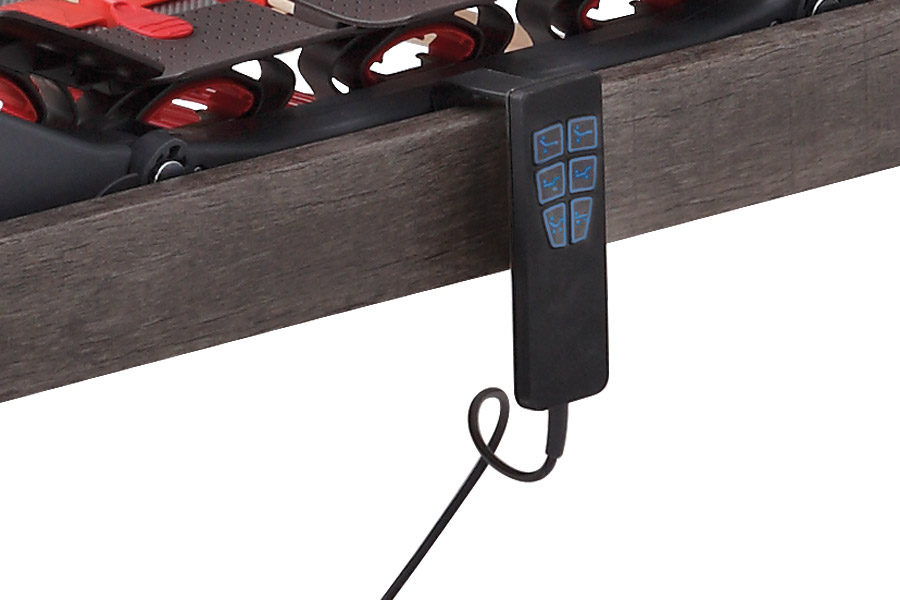 Mattress stopper handle
The mattress stopper handle keeps the mattress from sliding forward during the bed base's movement.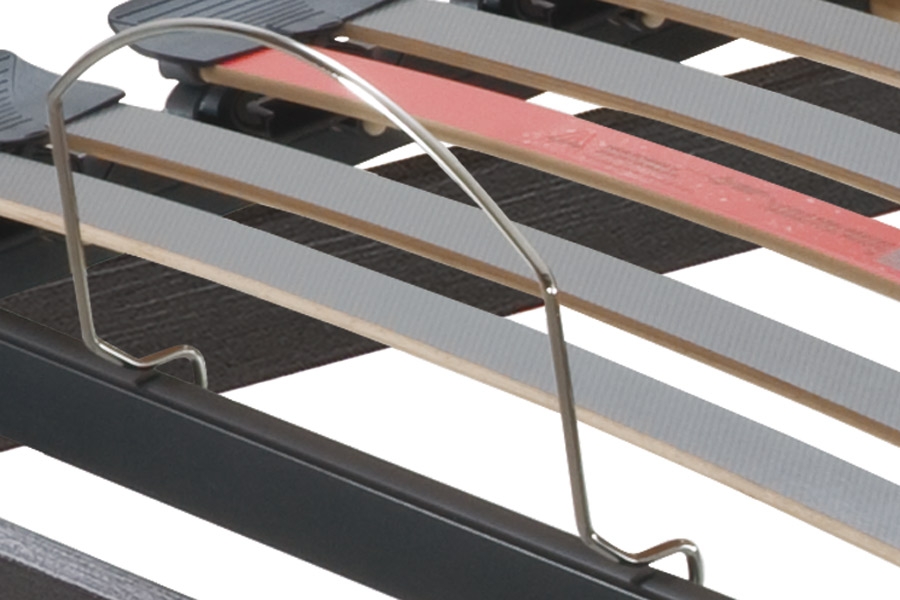 Available in 5 colors
Framework and bed legs are available in 5 different finishings: wenge, eucalyptus, texwood, beechwood, ivory.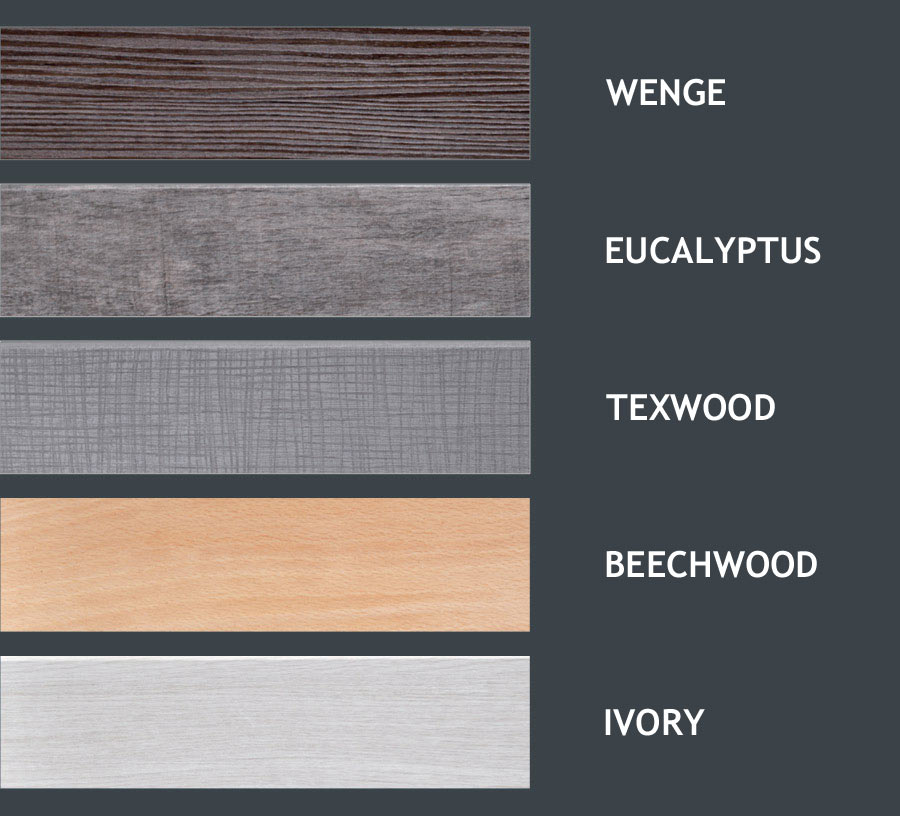 Available options for the bed base "Ergomovie"
Bed base legs
The bed base legs are not included in the price and they are available as options in different measurements ranging from 25 cm to 50 cm.
The height of the bed leg refers to the upper edge of the bed: for example, a leg of 35 cm of height consists of 28 cm of leg and 7 cm of framework.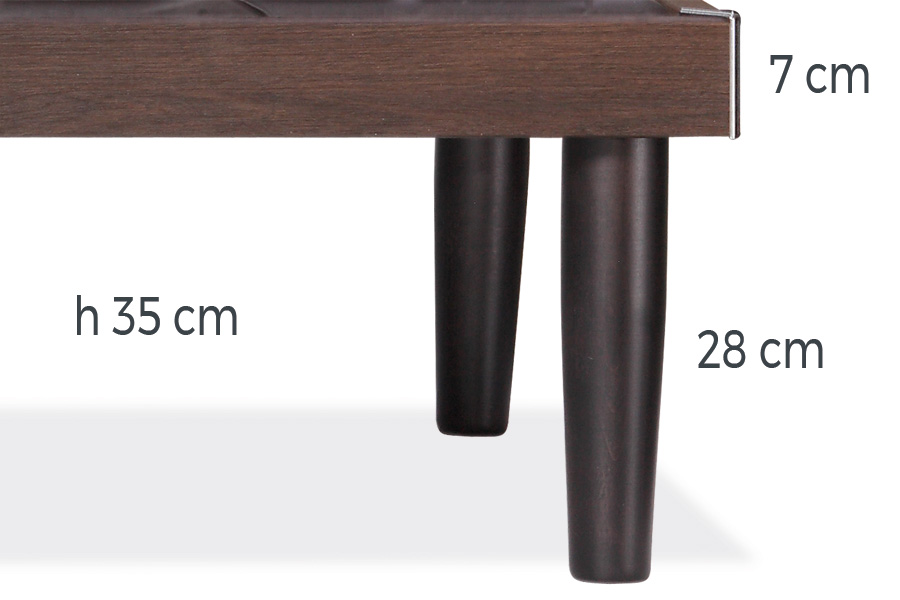 Side mattress stoppers
The easy-to-use side mattress stoppers help keep the mattress always in the right position.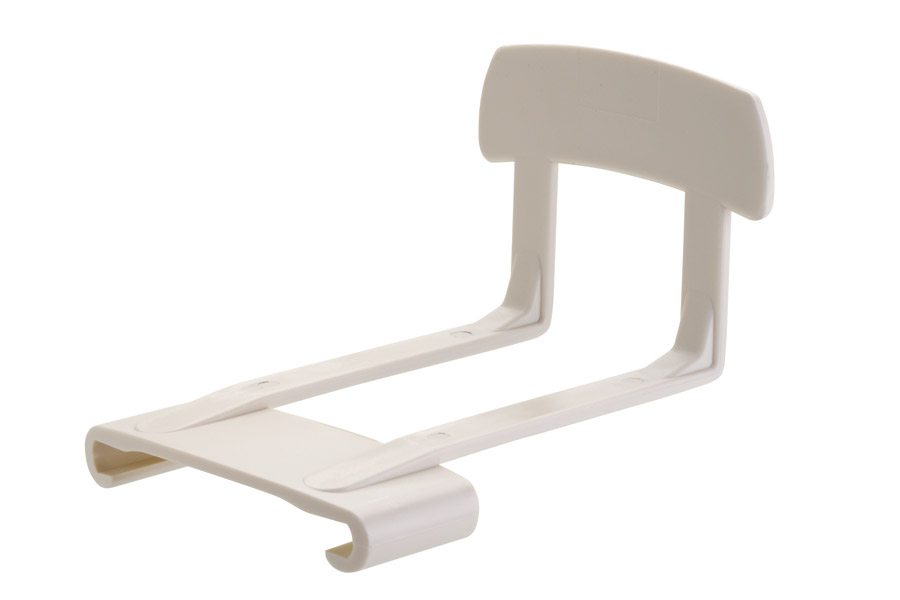 Connecting leg for bed base
The connecting leg is used to support and block the pair of single bed bases in order to obtain a double bed base.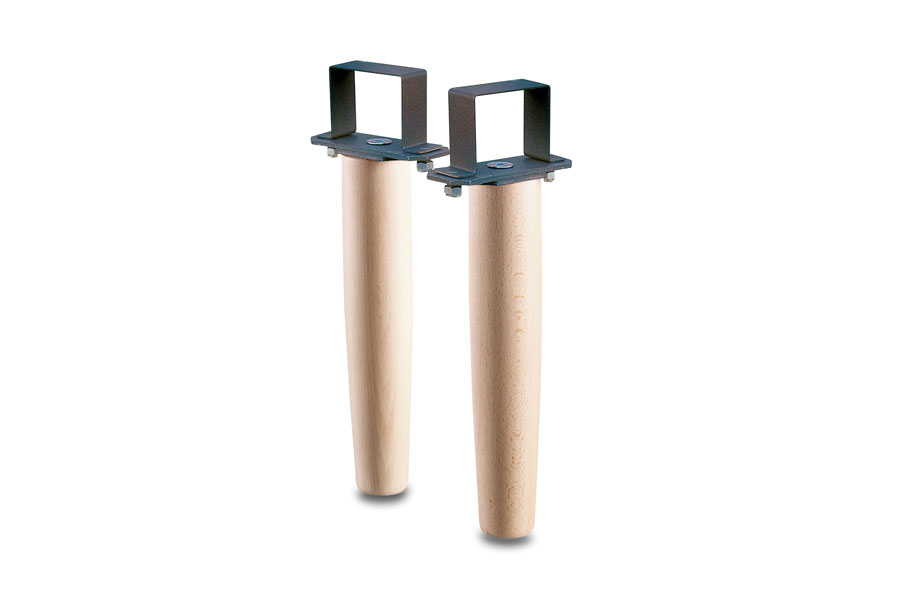 Plastic connector for joining bed bases
Combine 2 single bed bases to obtain a double bed base without the addition of legs.
Remote Control Kit
Remote control kit with a low tension of 24 volts: transformer and remote control are separated from the bed base in order to avoid any electric tension or electromagnetic fields in the bed.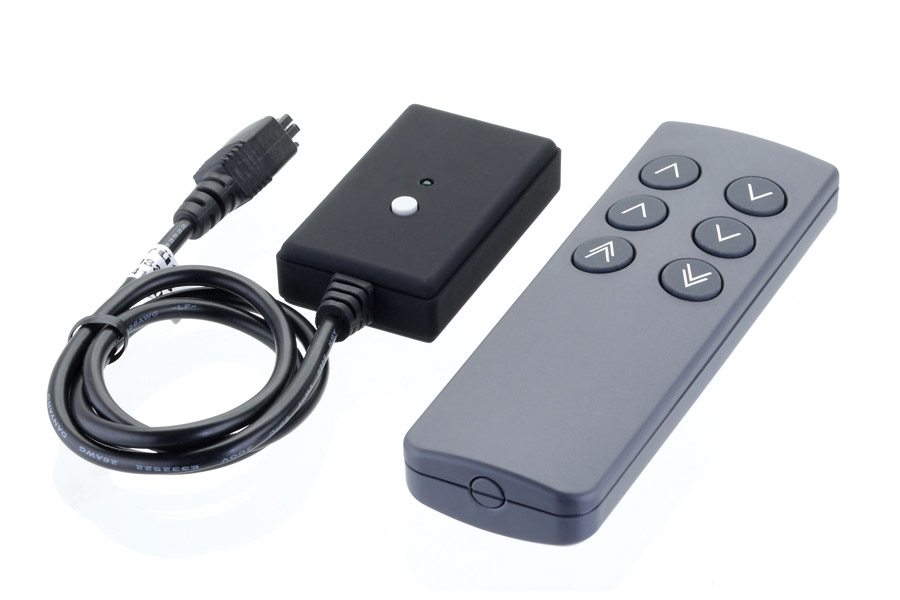 Ergomovie synchronization cable
Allows to control 2 motorized bed bases with a single push-button panel.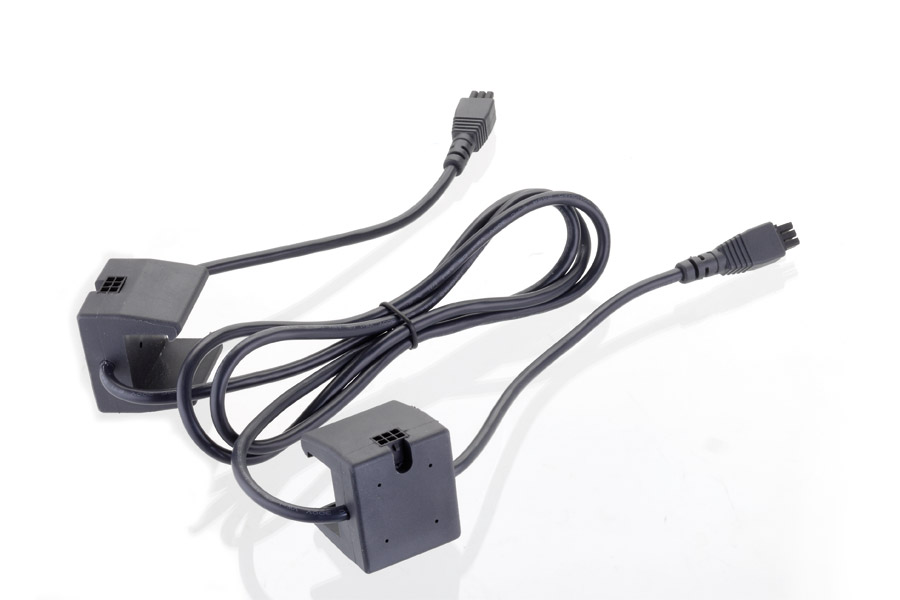 Bed base compatible with "Ego" headboard
Give a tinge of sophistication to your bedroom with the personalized "Ego" headboard: find out more!