Hypoallergenic Evo
Sleep better thanks to the special hypoallergenic materials used for this mattress. An anti-mite function is guaranteed thanks to the completely removable and machine-washable cover and to the permanent anti-mite treatment applied on the padding. The internal part is composed of a system made of independent pocketed springs.
Certifications
Product Details
| | |
| --- | --- |
| Height | About 22 cm |
| Length | 190 - 195 - 200 cm |
| Width | 80 - 85 - 90 - 100 - 120 - 140 - 160 - 165 - 170 - 180 cm |
| Custom Measures | Available |
| Rigidity | H2 |
| Inner Cover | Cotton |
| Certifications | Reach, Standard 100 by Öeko-Tex |
| Production | Handmade in Italy by Manifattura Falomo |
A relief for those who suffer from allergies
Evo is the mattress that occupies top positions in the anti-mite project of Manifattura Falomo's research center: it does not contain pesticides or other substances that could be harmful for health.
Special anti-mite materials
It is composed of a fabric cover made of non-allergenic fibres which allow the padding to perspire and correctly hold an anti-mite function contrasting the proliferation and settlement of mites in the mattress.
Evo is a relief for those who suffer from allergies because the lining can be removed and it is hygienically safe.
Technical features of the mattress
External cover in Damask Stretch fabric.
Box plane in "Comfort Profile" Aquatech® with countless micro-massage and aeration points.
Upper separation interliner in white felt.
Pocketed springs 7 zones with containment Support Flex System.
Lower separation interliner in white felt.
Box plane in "Comfort Profile" Aquatech® with countless micro-massage and aeration points.
External cover is washable at 60°C
The mattress is supplied with removable lining which can be washed at 60°C. The internal cover made by Manifattura Falomo in cotton jersey protects the core and allows to use the mattress also while the external cover is being washed.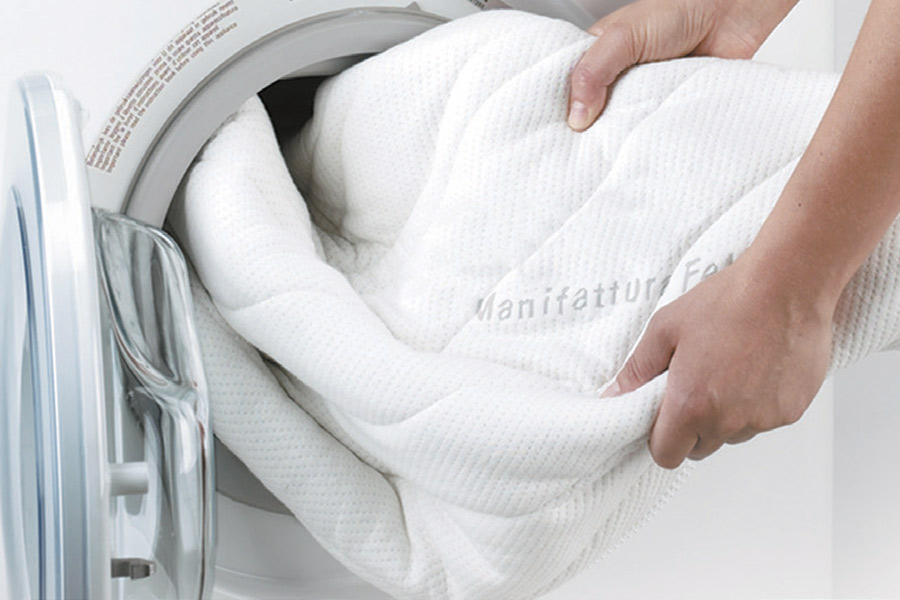 7 zone springiness
MIndependent springs with 7 different load-bearing zones allow an optimal rest for the back.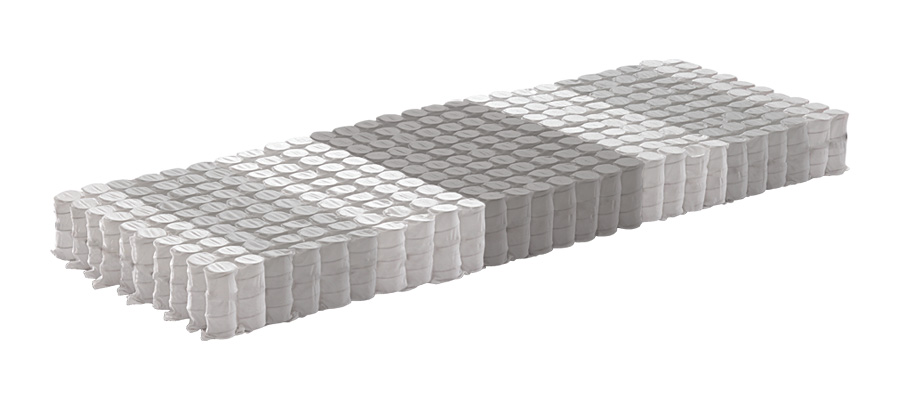 Cover quilting
High quality quilting enhances the features of the fine Stretch Damask fabric.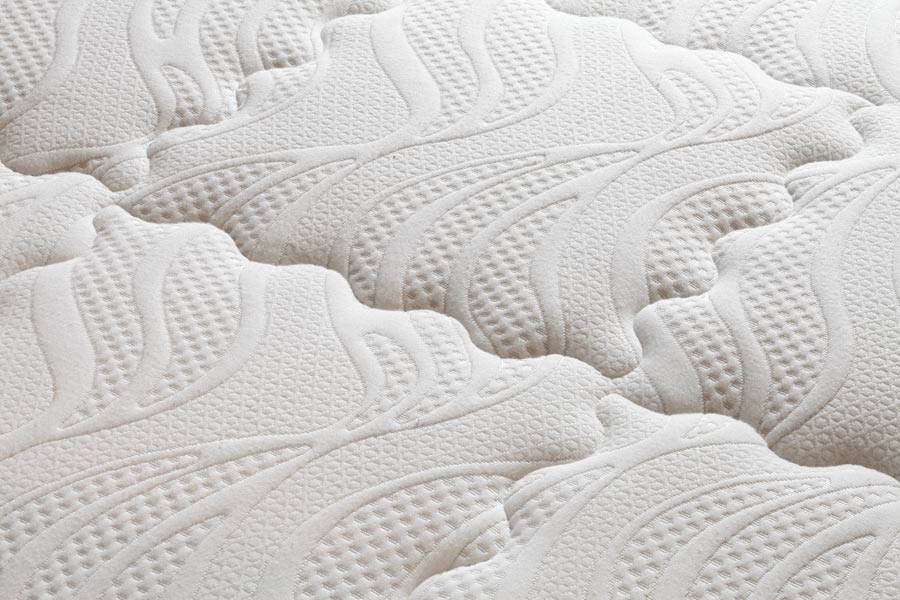 Certified anti-mite padding
Innovative certified and permanent anti-mite padding also machine-washable.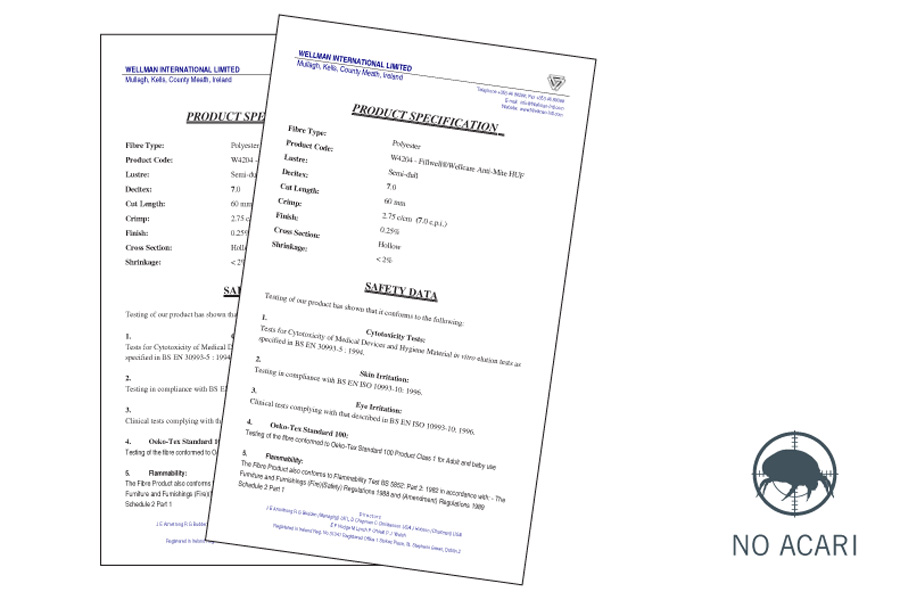 3D Aeration Band
Side band in matching fabric with volumetric insert to ensure perfect breathability and humidity dissipation.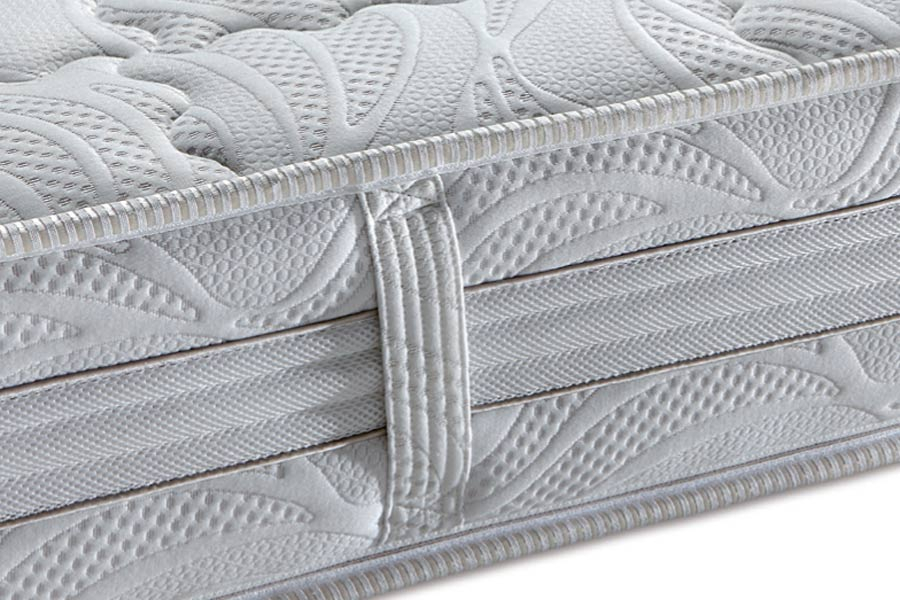 The ideal bed system: Hypoallergenic Evo and Boxspring
A quality furniture, also customisable to match your pocketed spring mattress Hypoallergenic Evo, perfect for enhancing its features.
BoxSpring is a bed system made of 7 springiness zones with 400 pocketed springs (single size) which allows to have a liner matching Hypoallergenic Evo.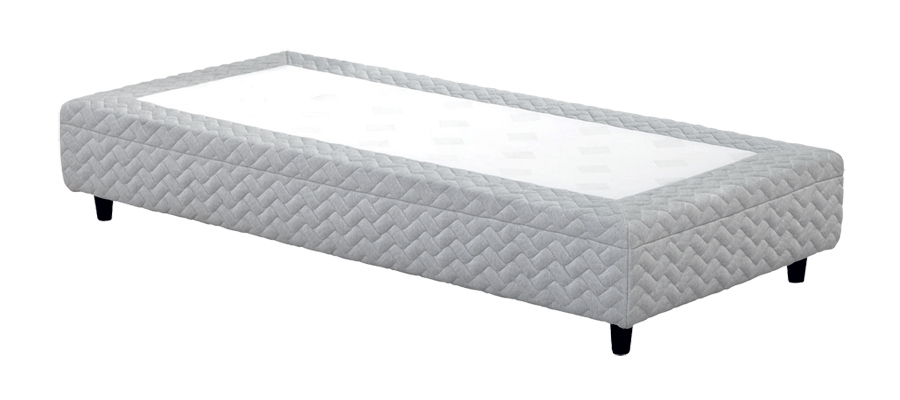 We also recommend